Punjabi in Biscriptic Mode
Dr. Jaspal Singh
South Asia Post Issue 43 Vol II, July 15, 2007

Punjabi is one of the few languages of the world which can be written in two scripts – Shahmukhi and Gurmukhi. In Pakistan, Punjabi is written in Persian script which now is known as Shahmukhi for the limited purposes of its use for the Punjabi language. In Indian Punjab Gurmukhi, a form of the Brahmi script is the only orthographic medium through which Punjabi is written. In Pakistani Punjab, Gurmukhi knowing readers are almost non-existent so are the Shahmukhi knowing readers among the new generation of Indian Punjabis. The situation in other countries is more paradoxical. Punjabis hailing from Pakistan can read and write Punjabi only in Shahmukhi whereas the post-partition generation of Indian Punjabis can identify only the Gurmukhi script. So in 'foreign' countries, there is a simultaneous use of both the scripts.
Keeping this biscriptic nature of the language in mind some farsighted writers and well wishers of Punjabi have come out with a unique idea of using both the scripts for bringing out their journals and books. One of such quarterlies is Saanjh which is published in Shahmukhi from Lahore and in Gurmukhi from Ludhiana. The first issue of Saanjh has come out with in April 2007. The title page of this issue is illustrated with intricate symbolism from Heer Waris. At top Panj Peers (five holimen) are sitting in ascetic postures. Below a snake is hanging from the high branch of a tree on which two peacocks are comfortably perched. On the ground Ranjha is playing on his flute while sitting beside a buffalo that raptly listens to the music. Red, black, yellow and orange colours dominate the landscape painted by Sabir Nazar.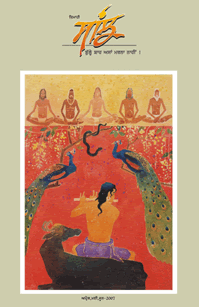 The contents of the journal are equally colourful. Most of the writers – poets, story writes and prose writers are from Pakistan with some sprinkling of Indian and overseas Punjabis. The lead article has been contributed by Alisa Airaz from the University of Pennsylvania which is about the role of both the Punjabs in bringing about peace to the Indian subcontinent. Sadhu Binning from Canada writes about Punjabi literary scene in Canada. Though there are five short stories in this issue by such illustrious writers as Ijaz Sayyad Zubair Ahmad and Fakir Chand Shukla, yet the poetry section dominates the entire enterprise. Poems are by Najam Husain Sayyad, Amarjit Chandan, Harash Kumar, Mohammad Ali Muztar, Tanvir Bukhari, Tufail Khalis, Salim Kashar, Shagufta Nazali, Afzal Sahir, Sharif Kunjahi, Muneer Niazi, Javed Zaki and so on. Najam Husain Sayyad invokes the Punj Peers (five holimen) as an act of adulation of the numerous wise men of Punjabi including Farid Damodar, Nanak, Gurdas, Husain, Bahu, Bulla, Waris, Nazabat, Muhammad, Qadar Yar and so on. He says "Hail those who came to the rescue of the ordinary people in different ages doning roles of different hues. They roamed from one land to the other swimming across five rivers while sowing the seeds of wise words on our barron tongues."
Amarjit Chandan while adoring the creative power of words writes: "Likhari shabad pujari keeti rachna/Har kavita mandir hai/Har kavi hai kirti/Karda rachna jorh jorh ke akhar – akhar/Eh kavita da mandir bin baari hai/Khulda daso disawan/Jis di aasman hi chhat hai." (Writer as the votary of words has wrought a creation. Every poem is a shrine and every poet a toiler who keeps creating new forms while conjoining one word after another. The temple of poem is without windows and doors though it opens on all the ten directions and the infinite heaven are its roof.) Sarif Kunjahi goes a step further. He believes in the creative power of silences. He avers "Muhon bhawen gal na nikle honth fararhk ke reh jande ne/Kehne wale injh wi apne dil dian gallan keh jande ne." (The mouth may remain shut and the lips may just quiver but those who are eager to say something communicate their deepest feelings without a word.) Javed Jaki, a revolutionary poet writes ballad of Dulla Bhatti, a folk hero of Punjab who challenged the established order in the medieval times. The poet says, "Dhol wajenda dhol/Dhol wajenda Dulle da/Te nachdi niggar kammi kame/Nachde Raath Musalli/Sach surat de jail/Sir te paggarh ratrhe suhe/Rang basanti chole/Jhumar ghumar naach nachende/Jhulam waa warole." (Hark! the beat of the drum. It is drum of Dulla. Workers and toilers, peasants and sharecroppers are dancing in rapturous frolic doning blood coloured turbans and yellow robes. They dance like devastating whirlwind.)
The second journal in the same vein is Punjabi Alam edited by Abhe Singh from Chandigarh. Punjabi Alam is a real biscriptic quarterly since half of it is in Gurmukhi script and the other half in Shahmukhi. Simultaneously contributors are from both sides of the Radcliff Line. Authors like Jatinderpal Singh Jolly, Ahmad Yaar Janjua, Shaida Dilawar Shah, Aziz Ula Warsi, Manzoor Aijaz, Darshan Aasht, Jameel Ahmed Pal and so on are represented here. Poets like Sahrif Kunjahi, Fida Bukhari, Parvez Bazami, Bashir Ahmed Shad, Masood Chaudhri and so on also appear prominently on its pages. The Shahmukhi transcription requires a lot of improvement as it is pointed out by the Pakistani readers. Nevertheless this effort is laudable and it needs all encouragement – moral, financial and intellectual. One hopes that in days to come more such ventures would be undertaken as they encourage the readers to learn both the scripts of the Punjabi language, read literature from both the Punjabs that may result in a greater understanding and a warmer fellow feeling among all the Punjabis.