SANJH's Review in The Tribune
Regional potpourri
Scripting a bond
November 26, 2007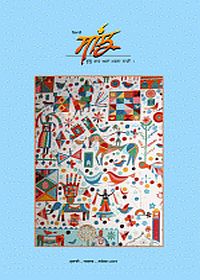 The second edition of the recently out quarterly 'Saanjh' is an enjoyable collection of short stories, travelogues and poetry published in the Shahmukhi and Gurumukhi scripts of Punjabi.
The people of the two Punjabs (Indian and Pakistani), separated by a border, are now also divided by these two distinct scripts that earlier made a common pool of literature in the language. The Academy of the Punjab in North America (APNA) has attempted to bridge the divide by giving a common platform to the people from India, Pakistan and other countries to exchange views and feelings.
Safir Rammah is the coordinator of the magazine for the academy. Dr Jagtar Dhiman and Manu Sharma Sohal from Ludhiana are in charge of the section from the Indian Punjab. A beautiful painting by Dev forms the cover of the latest journal.
The contents include translations of stories by Saadat Hassan Manto and Mohan Kalpana, and original contributions like 'Venus' by Inderjitpal Kaur Bhinder, 'Vadda Din' by Taran Gujral and 'Baghichi Bhootniyan' by Prof Soj.
Poets published in the latest edition include Nazam Hussain Sayyad, Prem Kumar, Mohammad Afzal Shahid, Swaranjit Sawi, Trilochan Lochi and Gurcharan Kaur Thind. Prem Kumar has also contributed an article 'Birha da Sultan—Shiv Kumar Batalvi.'
The expressions and idioms contained in the publication provide a glimpse into the treasure trove of original Persian and 'pothohari' words that were an integral part of the dialect. However, certain words and phrases are being phased out, silently and quietly, rue the writers.