Punjabi Writers Get Recognition
Safqat Tanvir Mirza
The Dawn - March 11, 2009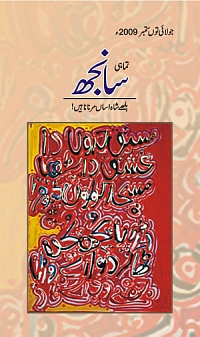 SAANJH quarterly magazine published simultaneously in Punjabi and Gurmukhi scripts from Lahore and Ludhiana (India); editors Safir Rammah with Ahmad Saleem and Zubair Ahmad from Pakistan; pp 160; Price Rs100 (pb); Published from Saanjh Book Street, 46/2, Mozang Road, Lahore.
IN the 10th issue of the magazine, at least two great Punjabis have been remembered: the one is wellknown all over the world as a great singer and actress, and the other is relatively not so famous. The first is Malka-i-Tarannum Noor Jahan and the second is Chaudhry Fazal Husain. The article on Noor Jahan is by the late Khalid Hasan which is in English and Poonam Singh has translated it into Punjabi. The first installment has appeared in the current issue. The article on Prof Fazal Husain has originally been written in Punjabi by medical doctor Azhar Mahmood Chaudhry who is a great admirer of Punjabi literature, particularly poetry. He sings the verses of Waris Shah and Mian Muhammad Bukhsh to promote Punjabi language and literature. He was deeply influenced by Sharif Kunjahi and his close associate Prof Fazal Husain, a prominent educationist who had raised his voice in support of teaching of Punjabi on every platform.
Prof Fazal's major struggle was for the College Teachers' Association for the economic rights of teachers of private colleges. This very long-drawn battle ended when during the first PPP's government private schools and colleges were nationalised. Prof Fazal worked with Anita Ghulam Ali, Prof Pervez Hoodbhouy, Prof Eric Cyprian, Khwaja Masud and Prof Manzoor.
Born in 1923 in Kharian tehsil, Fazal did his matriculation from a Jhelum school, graduation from the Zamindara College, Gujrat, and masters in psychology from the Government College, Lahore, and masters in Persian literature. As principal of the Zamindara College, he saved the lands of the college from the land mafia of Gujrat. He kept very close relationships with every section of the pop ulation, particularly his colleagues and students. He was closely associated with literary organisations of his area. He also served as principal of the Government Islamia College, Gujranwala. Prof Fazal was not a writer as such but he was the teach er of many top poets and writers and close friend of very senior poets, writers and intellectuals. Poet Sharif Kunjahi and Anwar Masud had dedicated their books to Prof Fazal, a conversationalist par excellence.
It is heartening to note that Urdu writers now also acknowledge the services of Punjabi language writers. That was the time when regional languages were not given any importance. This new trend is being seen in the memories being written by senior writers. Anwar Sadeed, who has been decorated with Tamgha Imtiaz last year, in his new book Saeed Suratain (published by the Dost Publications of Islamabad) particularly mentions the contribution of Sharif Kunjahi and the late Prof Arif Abdul Mateen. Both started their literary career in Urdu but emerged as prominent poets and critics of Punjabi. Here one may mention that Sadeed, a retired irrigation engineer, very promptly writes obituaries, a job he is doing just to make the nation realised that this section of society has been contributing to the culture and literature of the country. It is strongly needed that they should be remembered as the noble asset of the nation.
About Arif, he writes that he was closely associated with the Wazir Agha group of Sargodha responsible for literary magazines Auraaq and Urdu Zuban. Arif was a staunch associate of the Progressive Writers' Association. His contribution to the progressive literature was strong and rich. But at a later stage he quit the movement. He also contributed a collection of Punjabi poetry and a collection of naats 'Ambar Teri Chhaan'. That is how our Punjabi writers are also getting recognition form the scholars of other languages.
— STM